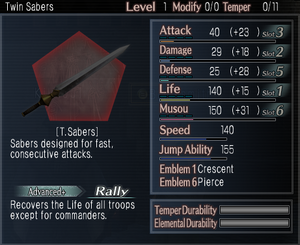 Twin Sabers are the perfect weapon for the warrior who values speed. While slightly weaker than other weapons, they give you the movement speed you'll need to chase down fleeing opponents.
Flask Upgrades
Edit
Slot 1: Life
Slot 2: Damage
Slot 3: Attack
Slot 4: Lieutenant
Slot 5: Defense
Slot 6: Musou
Slot 7: Combo
Pages in category "Twin Sabers"
The following 5 pages are in this category, out of 5 total.