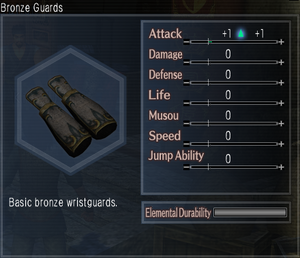 The arms slot is used to equip gauntlets, gloves, etc.
In the table below, each piece of gear will have its unique stat(s) listed first, then BONUS denoting how many stats, spread out over how many categories. Bonus stats never overlap with unique stats.
The example above indicates that the particular piece of equipment would have 2 points spread out over 2 stats, or in other words +1 to two different stats.
Pages in category "Arms"
The following 16 pages are in this category, out of 16 total.